Faculty
Michael Leroy Oberg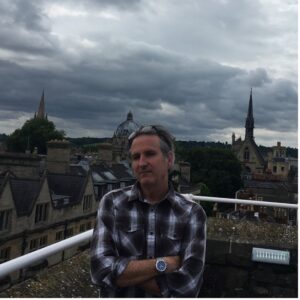 Michael Leroy Oberg is Distinguished Professor of History at SUNY Geneseo and the founder of the Geneseo Center for Local and Municipal History. He has written several books on Native American History, including Dominion and Civility: English Imperialism and Native America, 1585-1685 (Ithaca: Cornell University Press, 1999); Uncas: First of the Mohegans, (Ithaca: Cornell University Press, 2003); Samuel Wiseman's Book of Record: The Official Account of Bacon's Rebellion in Virginia, (Lanham: Lexington Books, 2005); The Head in Edward Nugent's Hand: Roanoke's Forgotten Indians, (Philadelphia: University of Pennsylvania Press, 2007); the first edition of Native America; Professional Indian: Eleazer Williams's American Odyssey, (Philadelphia: University of Pennsylvania Press, 2015); and Peacemakers: The Iroquois, the United States, and the Treaty of Canandaigua, 1794, (New York: Oxford University Press, 2015). He has published, as well, articles and reviews, and has worked as a historical consultant for native communities in New York and North Carolina, as well as for the Indian Resources Section of the United States Department of Justice. He has won awards for his teaching and research in Montana and in New York, including the SUNY Chancellor's Award for Excellence in Teaching. A native of Ventura, California, Professor Oberg earned his Bachelor's and Master's degrees from the California State University at Long Beach. He took his Ph.D. in 1994 from Syracuse University. He lives in Rochester, New York.
Alla Myzelev
Alla Myzelev is an Associate professor of Art History and Museum Studies at the State University of New York at Geneseo where she teaches courses in modern and contemporary visual culture. Myzelev is working on the manuscript on masculinity, politics and fashion in the post WWII Soviet culture. She is also finishes editing a book on artistic collaborative projects across political divides which will be published by Brill press. Myzelev has published extensively on feminism, activism, and material culture. Myzelev is the author of Architecture, Design and Craft in Toronto 1900-1940: Creating Modern Living (Ashgate 2016). Her edited collection of essays Exhibiting Craft and Design: Transgressing the White Cube Paradigm has been published by Routledge (2017). She published extensively on DIY culture and fiber art. Myzelev also curated several shows including a yearly exhibition of Feminist Art Conference International exhibition in Toronto (2014-2017).
Myzelev received her Ph.D. in visual and material culture from Queen's University in Kingston, Canada. Her dissertation was dedicated to the revival of the peasant crafts in the early twentieth century Britain and Russia. She held two post-doctoral fellowships: SSHRC and Paul Mellon. In her capacity of faculty member of the museum studies and art history she had developed several courses that encompass gender and digital humanities. She is currently exploring opportunities that Digital Humanities and Virtual Reality provide for teaching museum studies and art history. Prior to coming to SUNY Geneseo Myzelev taught at University of Guelph, University of Waterloo, OCADU, and University of Toronto in Scarborough.
Students
Una McGowan
Una McGowan worked on this project as a senior at SUNY Geneseo with a major in History and a minor in Museum Studies. On campus, she was a member of the Edgar Fellows Honors Society and Student Affiliate for the Center for Digital Learning.
Jessica Benedetto
Jessica Benedetto worked on this project as a senior double major undergraduate student at SUNY Geneseo, where she earned her degree in both History and Anthropology. Jess is from Tully, New York, which is located in the Syracuse area. After graduation, she plans on earning her Master's in immigration studies. Her inspiration for this came after volunteering at a refugee center in Athens, Greece.
James George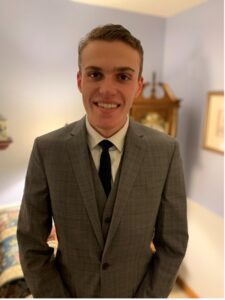 For as long as he can remember, James "Jim" George has had a passion for History. Whether it is World War II aviation, Presidential trivia, or the legacy of the Iroquois people, Jim has always believed that studying the past helps you to understand the present and prepare for the future. During his work on this project, Jim was a junior at SUNY Geneseo, studying History and Adolescence Education. Jim's lifelong dream has always been to be a high school teacher and he wants nothing more than to help kids get ahead. Jim is thankful for his family, which has inspired him to become a teacher. Jim lives in the suburbs of Buffalo, New York.
Jenny Bartholomay
Jenny Bartholomay is a History and Political Science double major graduating from SUNY Geneseo in May 2022. She is a writing tutor on campus and also works as an EMT in her hometown of Rochester, NY. After graduation, she hopes to continue working in the public service field and eventually find a position in a state or national park.
Mercedes Simpson
Mercedes Simpson worked on this project as a senior studying Art History and Museum Studies at SUNY Geneseo. She is fascinated in the role art plays in fostering relationships between people from many different backgrounds and disciplines. In 2021 she was awarded The Pam Eder Prize for Excellence, Annual Art History Department Symposium.
Website management
Center for Digital Learning
Education and knowledge-creation in the twenty-first century are unimaginable without digital tools for research and creative expression, classroom learning, and learning at a distance. At SUNY Geneseo, the Center for Digital Learning works to put these tools within reach of all faculty, staff, and students. We also work to ensure that these tools are used responsibly and effectively in ways that advance student success, promote equity, respect diversity, and foster inclusiveness.
As an incubator for innovative digital approaches to teaching and scholarship, and as a resource to faculty, staff, and students seeking to understand and benefit from the latest technology-driven developments in their fields, we support the college's mission to foster transformational learning, a rich co-curricular life, and a dynamic and inclusive scholarly environment.